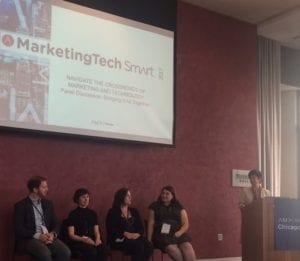 Marianne Hewitt, Founder and Principal Consultant of The Growth Strategy Group and board member of the Chicago Chapter of the American Marketing Association (CAMA) responsible for Analytics and the MarTech SIG, moderated a panel at CAMA's annual MarketingTech Smart Conference to summarize the day's learnings.
Takeaways from the panel discussion:
Keep the MarTech stack simple (KISS).  While there are over 5,000 vendor products/solutions to choose from, there are only 6-8 core solutions needed to market (aka grow revenue) successfully.
Content should reflect authenticity and transparency and, again, KISS.
Last but not least, keep doing more with less and with a spirit of continuous improvement with a constant watch for alignment with vision and strategy.